Special Events Insurance
Any person or organization that wishes to hold a special event like a dance, festival, or other public event is usually required to get a permit from the appropriate officials to convene this event. Part of this permit process usually requires the provision of special events insurance to protect the owner of the property from any liabilities or damage that might occur during this special event.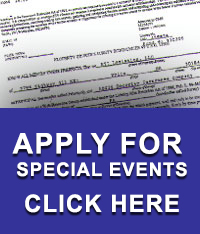 Some events that might require insurance are:
art shows
concerts
exhibits
dances
festivals
political rallies
animal shows
recreational events
sporting events
parades
conventions
any other event that may pose a liability threat
This type of special insurance from www.bfbond.com provides liability protection for the host organization and normally covers a wide range of things that can go wrong during the event. Rather than have the host organization or the property owner sued later, this special events liability insurance usually offers legal and financial protection to both the host organization and the municipality and property owner where the event is being held.
Many things can go wrong during an event that is open to the public. These include the normal accidents that might happen at any time, but there could also be a host of things that occur when crowds of people gather together even for fun events. Equipment can malfunction, or agitators at a public event can cause thousands of dollars of damages or vandalism. Individuals can get hurt, injured, or even lose their life.
Because so many things can go wrong, it is important to have special events liability insurance to cover the cost of legal protection in case someone who suffers damages during a special event wishes to take the organizers of the event to court. Not many individuals or organizations could afford to do this on their own, and this form of liability protection can be very useful in case something difficult or dangerous occurs during a special public event.
Special events insurance is just as important a part of the circus as the animals or clowns, and is as important to a reception as cake and coffee is. It is an essential part of the business of convening any sort of public or political event, and most municipalities will not issue a permit or license without it.
If you are planning a large event and need to learn more about the types of insurance you or your business may require, contact us at Bernard Fleischer & Sons. We can utilize our extensive knowledge and experience to help you create the perfect event that is properly insured and organized. Visit us at www.bfbond.com to learn more.
---
Street Obstruction Bond | Surety Bonds | Taxi Broker Bond | Third Party Administrator | Title for Bond
Mortgage Broker Bond | Motor Vehicle Dealer Bond | Probate Bonds | Special Events Insurance | Compliance Bond
Dishonesty Bond | Fidelity Bonds | Fiduciary Bonds | Guardian Bonds | Workers Compensation Quote
Home | Site Map